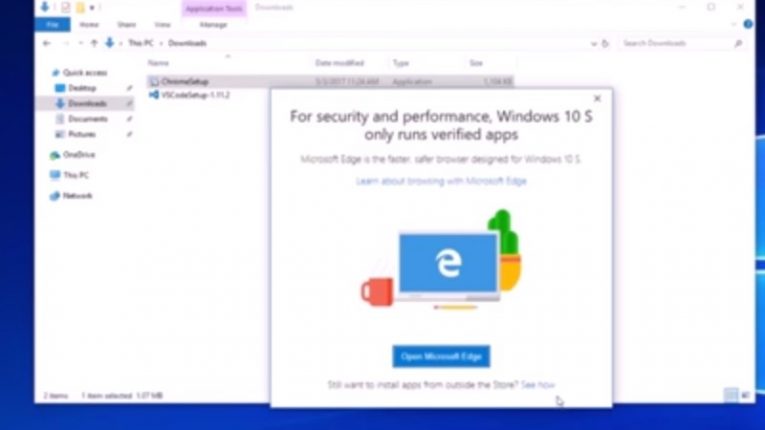 Windows 10S vs Windows 10 home
Recently microsoft introduced Windows 10S with microsoft surface pro. What is it? How it's different from rest of Windows 10 versions? Lets look at both of them in terms what is restricted/disabled
Windows 10 home
no active directory domain support (including azure)
updates are added automatically. cannot change to manual updating
no hyper-v support
no bitlocker support (hard drive encryption)
Windows 10S
it's stripped, secure or strict + small and aimed for better security (MS claim).
apps/software can be used from microsoft apps store only.
command line tools stripped
Wait, hang on.. only from microsoft apps store? Yes, if you try to use software what is made for windows 10 and it's downloaded from not microsoft apps store then it wont work on Windows 10S.
Here is picture of warning message
Hands on video of windows 10S
Microsoft explains that windows 10S was done so they could offer better quality and security. Every app in store is certified/verified. Thinking about it. This is not bad feature but this move did come after how many windows 10 editions? Well thats the thing. It's a new edition, the Windows 10S
Big minus with ms app store is, there is no Openoffice or Libreoffice for some reason and for example portableapps project.. This is indication that some community developers don't see any benefit to make software also for ms apps store format and publish them over there
Is Windows 10S for you? I can only tell from myself. When comes to choice i install windows 10 home. Why? Simple: it's even more stripped version. Less things, more secure plus it runs all windows 10 software (outside store apps also). You can get missing bitlocker third party software what does same (encrypts files, harddisk). Just look them up
Perhaps thats why asus stick with windows 10 home with it's zenbook flip s convertable laptop?
PS! Have a look at nice wikipedia article of windows 10 editions
Be sure to check out critisism as well. By default windows 10 has way too many options turned on what will send your pc diagnostics to MS. Can turn all but one off
Note: MS offers option to upgrade from Microsoft 10S to Microsoft 10 pro