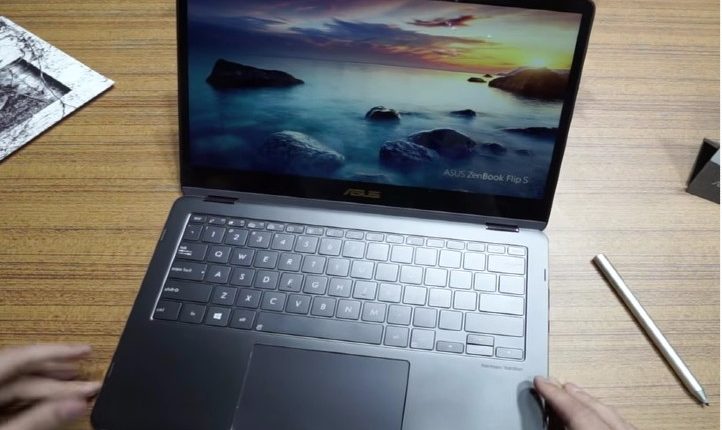 I remember "tablet/hybrid" pad transformer 2 in 1 (model TF101) and just now realised it was launched in year 2011. Back then they didn't sell out.. Now i believe is different story. Market is more ready. You can see "hybrid tablets notebooks almost laptop catching feeling" devices everywhere but non of them is so close to perfect laptop/notebook hybrid solution. Asus claims to take that position, offering best notebook 2 in 1 laptop solution. However since keyboard is not fully removable one could debate word about notebook but let me help you out
Flip keyboard under screen and vola you have notebook. Can hold in your hands same way. Responsible screen (fingers) and pen
Perfection + competition and price. Behold, hot from computex: the Asus Zenbook Flip S new series notebook convertable laptop is here (soon worldwide selling)!
Spec/feature/hardware
13,3″ Nanoedge 4K UHD Display
1.1kg weight
10.9mm thin
360º degree hinges
CPU i7, 3.5 GHz
1TB SSD disk
16GB DDR3
Pen
Instant resume
Camera
USB-C
Wifi
Battery 11.5hrs
Fast charging
Immersive Audio (harman)
Bundled mini dock (HDMI, USB)
OS: Windows 10 home
Price: around $1,099
For this price you have top hardware. 1TB SSD disk and it is PCIe (3x faster then sata SSD) + in long term – it's quality. For example hinges.. Tested over 20,000x to last (it's asus claim).
To be clear – Zenbook Flip S runs on MS Windows 10 home, not MS Windows 10S which for laptop type notebook seems to be better, since you can use all windows 10 software (not only those what are in MS app store – with windows 10S your stricted to app store only).
Oh and thinking about previous releases. Yes, you can try ubuntu dual booting as well. Ofcource ubuntu support is by community only
Pictures:
Hands on video
Official video from computex